K12itc Named Top 10 Small Business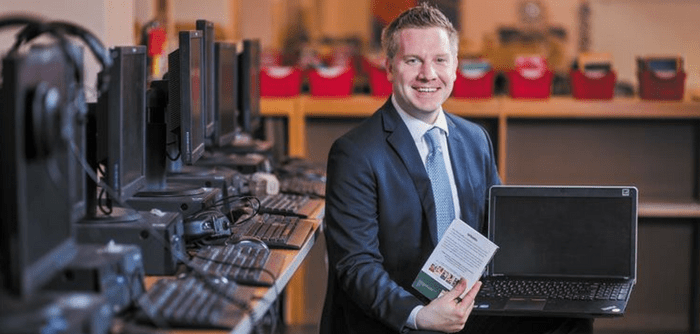 The Greater Kansas City Chamber of Commerce has narrowed the pack of 78 applicants to its Top 10 Small Businesses and announced the honorees during Wednesday evening's celebration at Studio Dan Meiners in Kansas City. Three of the honorees top several of the Kansas City Business Journal's Book of Lists.
The public will have an opportunity to learn more about the companies May 4, when the Top 10 CEOs share their insight as part of a panel discussion at the Sheraton Crown Center Hotel. The Small Business of the Year will be named May 25 during the Small Business Awards Luncheon at the Kansas City Convention Center, where AOL co-founder Steve Case will serve as keynote speaker.
The Top 10 honorees are:
Adams-Gabbert & Associates LLC, Overland Park– The professional services firm specializes in improving business, IT strategy and operations. Denise Kruse and other managers bought the firm from Bicknell Family Holding Co. LLC in 2011.
Alpha Energy and Electric Inc., Kansas City– The engineering procurement and construction solution-based company offers a variety of services for commercial, institutional, governmental and industrial construction. In 2014, it earned the chamber's Diverse-owned Business Award.
Centric Projects LLC, Kansas City– The commercial general contractor was named a Champions of Business honoree in 2015 and netted $66 million in 2014 revenue – more than double from the previous year. It served as general contractor on a number of 2016 Capstone Awards projects, such as the Big Brothers Big Sisters building at 1709 Walnut, the Hawthorne Plaza redevelopment in Overland Park and The Globe Building at 1712 Main Street. Centric Projects Ranks No. 85 on the Kansas City Business Journal's Top Area Private Companies List and No. 8 on the Top Area General Contractor's List.
DataLocker Inc., Overland Park– The tech company offers hardware and cloud-based encryption solutions for government, military and enterprises. In February, it announced it had purchased the technology and assets of IronKey from Imation Corp., a leader in encryption services. The acquisition also gave DataLocker a new office in San Jose Calif., and a small team in Ottawa, Canada.
International Builders & Consultants Inc., Kansas City– The certified WBE commercial construction company specializes in interior tenant finishes. Its recent projects include the Kansas City Zoo's orangutan exhibit and the Kansas City streetcar.
K12itc Inc., Kansas City– K12itc offers tech solutions and personal help-desk services to K-12 school districts nationwide. It ranks No. 5 on the Kansas
City Business Journal's Fastest-Growing Area Businesses List, No. 13 on the Top Area Computer Network Companies List, and No. 19 on the Top Area Information Systems Outsourcing Firms List. In January, it hired its first COO, Mick Fenley, who previously worked at Kansas City Southern Railway Co. as assistant vice president of business solutions.
Lead Bank, Kansas City– The bank opened its first Kansas City location in 2015, and the Downtown streetcar project played a role in its decision. The Lead Bank building at 1801 Main Street won a 2016 Capstone Award in the adaptive reuse category. The branch was designed to spur interaction among bankers and small business customers; it also features a catering kitchen, a rooftop space for indoor and outdoor events and 1,500-square-feet of business incubator space. Lead Bank ranks No. 2 on the Kansas City Business Journal's Top Area Commercial Lending Banks List ranked by loan-to-deposit ratio and No. 23 on the Top Area Commercial Lending Banks List ranked by local commercial loan volume in Kansas City.
Post Cards, Kansas City– The Kansas City staple has been around for more than 65 years and designs, manufacturers and distributes personalized corporate greeting cards and calendars for businesses nationwide.
Veracity Consulting Inc., Lenexa– The certified minority/woman-owned consulting company provides end-to-end solutions in program management, enterprise architecture, data services and other areas. The company was named a 2016 Champions of Business, and CEO Angela Hurt recently participated in theKansas City Business Journal's Mentoring Monday. (Check out her tips on mentoring and why she values it).
Weave Gotcha Covered! LLC, Kansas City– The woman-led company provides jobs and mentoring to women from marginalized communities. It also manufactures custom window treatments, bedding and upholstery. Weave Gotcha was among the first to receive a microloan from the Women's Business Center's new microloan program.