K12itc Named Top Small Business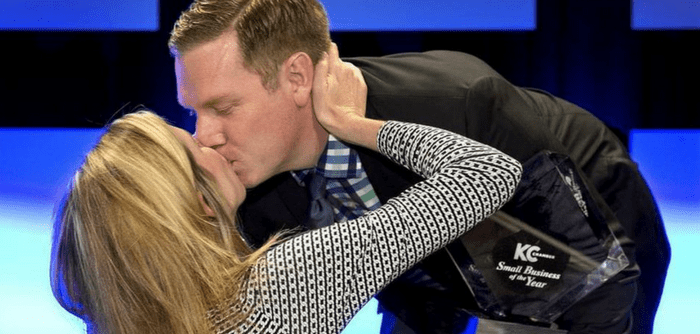 BY JOYCE SMITH — KC Star
The Greater Kansas City Chamber of Commerce on Wednesday named K12itc as its 2016 Small Business of the Year.
The Northland company, which provides customized technology solutions and services for K-12 school districts, received the Mr. K Award, named after the late Ewing Marion Kauffman, founder of Marion Laboratories and the original owner of the Kansas City Royals.
The Mr. K Award is based on business growth or sustainability, exemplary employee relations and a commitment to community service.
The award was announced at the 30th annual Small Business Celebration at the Kansas City Convention Center. About 600 people attended the event. AOL co-founder and philanthropist Steve Case was the keynote speaker.
"We are passionate about what we do and that passion drives us each and every day. Thank you for recognizing that passion," said Brad Sandt, founder and chief executive officer of K12itc.
Sandt had been head of information technology for the Park Hill School District for 14 years. Six years ago he founded K12itc so schools, even those in rural districts, would have equal access to the latest technology and support systems.
In his application for the award, Sandt said: "They're using 3-D printers and modeling architectural buildings that are designed using software. Textbooks are disappearing and going digital, classes are going online and it's completely different from older days. I saw that many schools were having trouble maintaining their IT environment. We were also able to package things together in an efficient manner that made sense as schools were dealing with budget challenges throughout the country. That led to taking a leap of faith and starting K12itc. That leap of faith paid off."
The company, at 5904 N.W. 63rd Terrace, now serves 80 school districts as well as some private and charter schools. Revenues have grown substantially, the staff has increased from three to 29 and the company's customer base now includes schools in seven states. Sandt plans to be nationwide in three or four years.
The chamber also announced four other award winners:
▪ Diverse Small Business of the Year: DuBois Consultants Inc.
▪ Entrepreneurial Small Business of the Year: Blooom, a Leawood-based, automated online 401(k) management service.
▪ International Small Business of the Year: Doodlekit.
▪ Legacy Business of the Year: Newmark Grubb Zimmer.
More than 1,300 companies were nominated for the Mr. K Award, and 78 of the nominees went through the application process.