How We Got Here
Few industries are changing as rapidly and as drastically as the technology industry. This is certainly true in K-12 education. School districts are becoming increasingly dependent on technology. With that dependence comes a need to invest in technology that works – day in and day out, around the clock. This 24/7 demand requires professionals who are dedicated and able to evolve with the technology.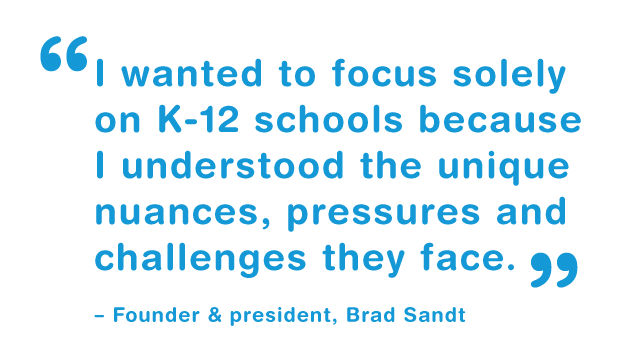 In 2011, our founder and president, Brad Sandt, saw this need and decided to start his own company to meet it. k12itc improves technology in K-12 schools with unmatched focus. We've worked in K‑12 school districts, so we quite literally have been in our clients' shoes. We strive to find efficiencies in technology to save clients money and provide better service. k12itc sets the curve by providing cutting-edge technology today and tomorrow.
Before launching k12itc, Sandt dreamed of building a technology model that bundled every aspect of a school's IT infrastructure, connectivity and maintenance into one efficient package. In 2015, we made this dream a reality and introduced albert – the smartest partner a K-12 school could have to manage its technology infrastructure.
The best part is, this is just the beginning for k12itc. We're on our way to providing expert technology services and groundbreaking products to schools coast to coast.
Save
Save
Save
Save
Save